An integrated system to improve COPD care across Wales
Huge variation exists in prescribing across Wales as a legacy primarily of the influence of the pharmaceutical industry.
It is also known from national audits that approximately 25% of all patients in Wales on COPD registers in primary care do not have COPD. This is equivalent to approximately 20,000 patients. The combined cost of prescribing unnecessary inhalers to this group is > £20 million in Wales. Moreover, there is a historical tendency to overprescribe and to increase treatments rather than step down when clinical stability is achieved. COPD is a chronic condition that can be managed effectively in the community. The evidence shows where patients undertake good self-management their utilization of the health system, such as GP visits and hospital admissions, is significantly reduced because it is not necessary.


The aim of this programme of work is 3-fold:
Get the initial diagnosis right
To get the initial diagnosis right so people are put on the right treatment
Encourage HCPs to choose treatment options
To encourage HCPs to choose treatment options that provide the greatest value to the patient and to the NHS
Empower patients with COPD
To empower patients with COPD by supporting them to self-manage, to improve their quality of life, have better disease control, and to reduce inappropriate utilisation of healthcare resources.
Developing digitalised solutions
Working closely with lead clinicians and managers, the programme is scoped, designed and digital features developed.
These are aimed at the different aspects of the patent pathway. These interventions also ensure each level of decision-making – including policy, Health Board, clinical, and patient, is aligned with the desired outcomes.
The digital solutions include:
To get the initial diagnosis right so people are put on the right treatment
AWMSG endorsed national COPD management guidelines with accompanying TV shows from the author providing higher-level context and evaluation of the key features within the guideline.
To empower patients with COPD by supporting them to self-manage, to improve their quality of life, have better disease control, and to reduce inappropriate utilisation of healthcare resources.
NACAP toolkit – the official COPD and Asthma audit and QI toolkit developed in partnership with the Royal College of Physicians who run the national audit for Wales. Throughout the toolkit, all audit leads provide insight, learning and advice about the audit data and what to do with it.
Quality Improvement platform with national QI project – a step-by-step guide with supportive tutorials and video education delivered by the experts in Wales.
A freely accessible dual language NHS Wales's self-management app to support people with COPD. The purpose of the app is to support people to stay well, by self-monitoring and providing relevant learning about the things that matter, and to provide guidance and reassurance for when they become unwell, to self-manage etc. For more about the apps go to
https://healthhub.wales
Implementing digital interventions
The interventions are delivered through an implementation framework. The joined up system approach means that everyone involved with COPD management knowing, learning and doing the things that really matter. Key to implementation is ownership and involvement. The teams involved in developing digital solutions are involved in the planning and execution of the implementation phase.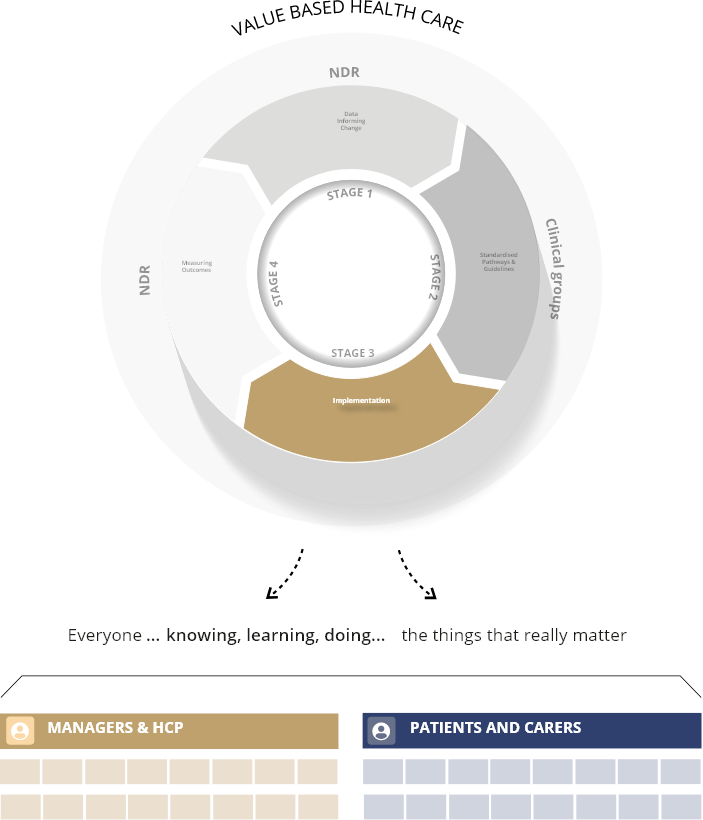 Alignment with policy and Digital architecture
The implementation process aligns policy and audit (Welsh Government and the Royal College of Physicians) through Health board and primary care (GPC Wales and AWMSG) through clinical engagement and patient self-management.
The guidelines were developed in a simple standardised format. In order to maximise implementation, they formed a coherent and integrated package together with 'National Welsh Standard' educational for both asthma and COPD, so that primary care nurses were all aware of, and undertook they key important interventions needed to ensure high value care, including adherence to the guidelines. The recently released apps also are aligned with the guidelines. A dedicated layer of 'tutor-mentor' experts in primary care helped ensure dissemination and implementation.
The key issues highlighted by the data (in this case the RCP audit) are reinforced throughout the programme. The aims and outcomes of the programme are articulated, prescribed, suggested, implied and reinforced through context and action at each level within the programme. This is to ensure at every level, everyone at the very least knows what needs to happen.

The programme has already impacted around half a million patients with breathing problems. Up to ten thousand patients have received objectively assessed benefit through peer reviewed diagnostic spirometry, constituting the first of three stages of the COPD quality improvement project.
Around three quarters of GP practices in Wales are currently engaged at a rate of 2.5 staff members per practice when comparing to all practices across Wales. Sixty eight percent of participants have reported changing their practice during the education pillar alone, rising to 97% on completion. Furthermore, 96% of participants maintain the attributes of the behaviour change, and report sustained positive impact on patient care up to 3-years after completing the formal learning alone. Patient management is optimised in 88% of participants even before commencing with the third pillar, quality improvement.
Diagnosis utilising spirometry is improving, despite removal of QOF points in primary care. Between 2014 and 2019 Wales has saved £10 million in inhaler spends whilst in Scotland over the same period, spends have doubled.
Over a thousand participants have progressed into the final stages of the programme. Across the nation, the impact is expected to see up to 20,000 patients correctly diagnosed and the care and management of tens of thousands more patients being fully optimised. This will reduce the overall burden of the disease, alleviate the workload on primary care through patient optimisation, and save NHS Wales up to £40 million in healthcare costs attributable to misdiagnosis alone.
The impact has already seen Wales saving £10 million in inhaler prescribing between 2016 and 2019, equating to over 11% saved from the baseline budget in the past four years. This has been achieved through a clear focus on improving value-based treatment at a national level and discouraging the use of expensive options, despite rebates given for these. The recent release of self-management apps for Apple and Android is seeing an exponential increase in downloads.